Thought I should pull my finger out my ass and provide a bit more history on the goods. I'll start at the top, with the 1966, and work through all of the D*A*M range past and present.
Thought it might be of interest and also could come in handy for pricing and what not.
Just laying down the bare bones for now but I''ll go over each of the sections and compile notes like I've done with the first 1966.
No#1, August 2003
One-off "horse" decal
Dry letter transfers used for labeling
Supplied with a set off AC128's and a set of OC76's
Blue LED
DC socket
Side mounted Switchcraft jacks
Horizontal mounted circuit board
Matrix board construction
Over sized components
Side mounted metal toggle switch
Input bias trimmer
No #2 January 2004
Baby Pink Eddystone enclosure
Dry letter transfers used for labeling
Green LED
DC socket
Supplied with a set off AC128's and a set of OC76's
Socketed output capacitor
Side mounted Cliff Jacks
Q2 bias trimmer & input bias trimmer
Matrix board construction
Constructed to match the Dragonfly's made at that time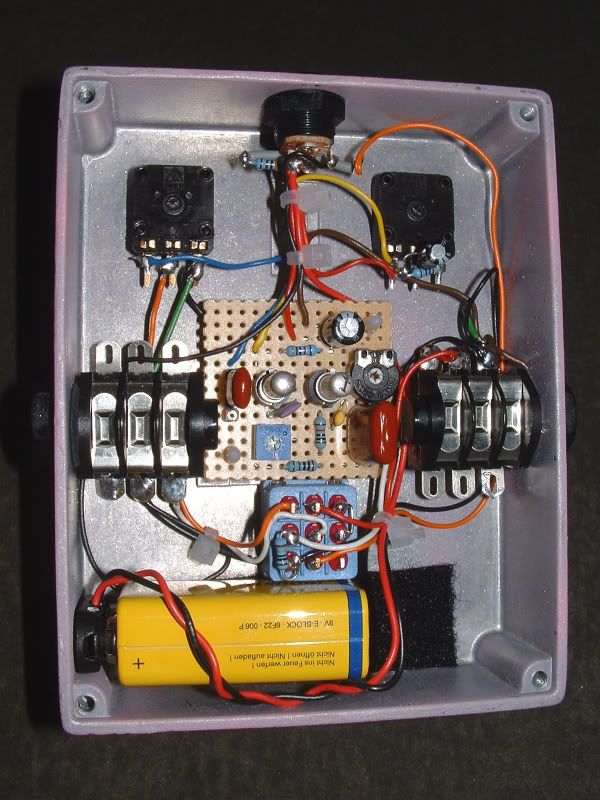 No#3-4 March 2004
As No#1 but converted to Negative ground
No "horse" decal
No#3 was silver/grey Hammerite, No#4 pictured
No#5 June 2004
Numbered as 004 but it was actually 005!
Low set knobs
Top mounted Cliff jacks
Eaton Cutler Hammer DPDT switch (the best!)
No LED
No DC
2 x OC76
New board layout
Stripboard construction
Tone Control over "Super Bee" switch
Constructed to match the Pro MKII's made at that time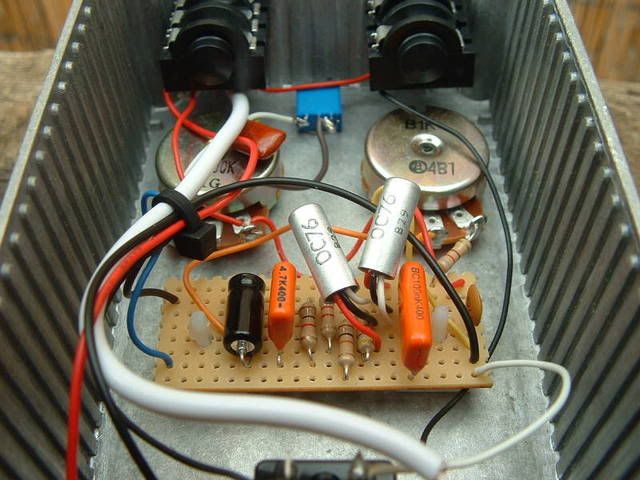 No#6-10 October/November 2004
As above but with high set knobs & Carling DPDT footswitch
No#6 was silver/grey Hammerite that I originally made for myself (later traded) possibly had a side mounted tone control in the same position as the Super Bee switch.
No#7 (pictured) was the 1st 1966 to have the rotary switch for the Super Bee switching
No#8 was original made without the Super Bee switch but was later returned so it could be added.
No# 9-10 as No#7
The above all had slight differences in the decals as they were all hand applied with dry letter transfers, one letter at a time, so some the types of font varied depending on what transfers sheets I had to hand. My local stationary store was selling off all their stock of transfer sheets so I bought whatever was on sale that week that looked "retro"
No#11 - 84-ish / December 2004 - June 2006
The all seeing eye years

:-D
As above but with new artwork applied by a single water slide decal & switchcraft jacks
No#11-12 had 2 x OC76
No#13 Was the first 1966 to have the mixed transistor set-up. AC128 for Q1, OC76 for Q2
No#20 was the Mini 1966 shown below.
AC128's or AC128K's were used for Q1. AC128 has the square heatsink, as shown.
No#27 was the first 1966 to have the AC128K
No#34 - 8? used a SFT device in Q1. (like shown on the custom purple 1966 board) Originally SFT337 but also other SFT types were used, SFT353 etc.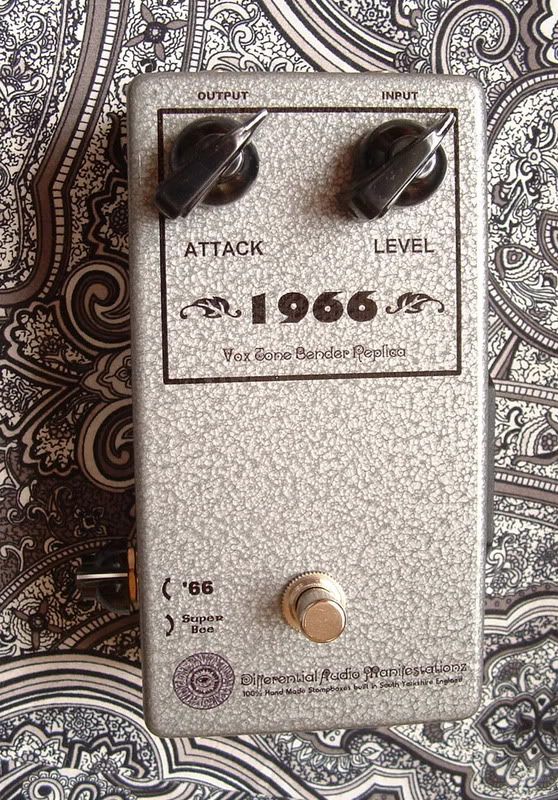 2004
2006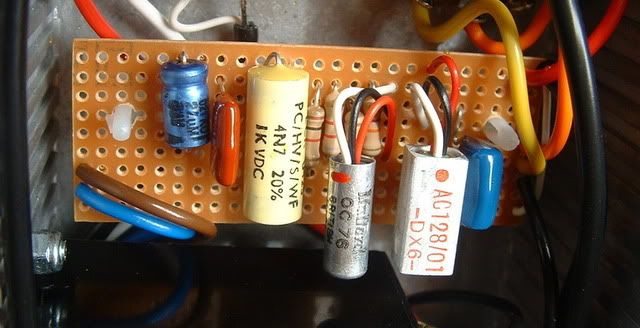 Oddity's...No#20 April 2005
Pedal borad friendly 1966
AC128 and OC76
Filter control, same as the type used on the Drag'n'fly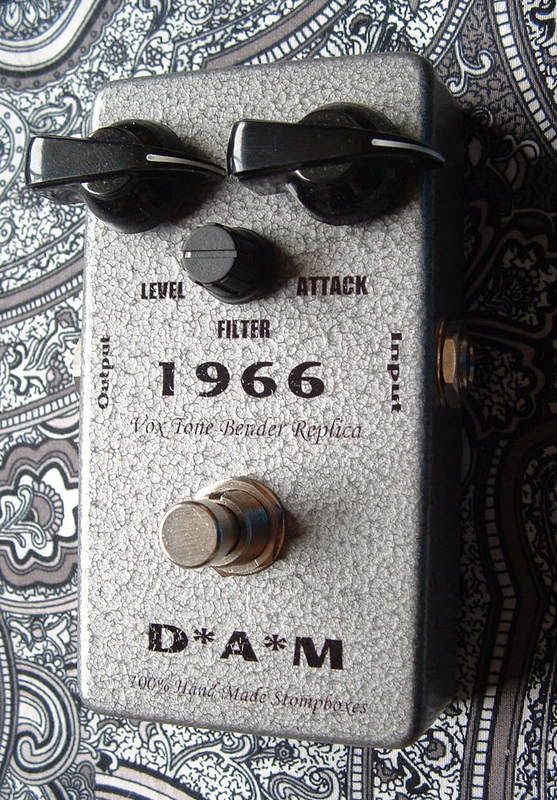 No#49 February 2006
Custom purple paint job
SFT337 and Mullard OC76, exact replica of the first Vox Tone Bender I had for reference purposes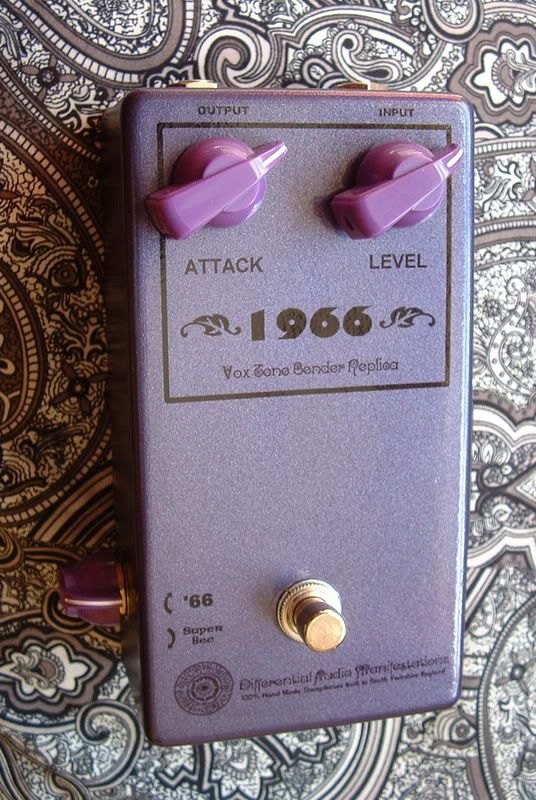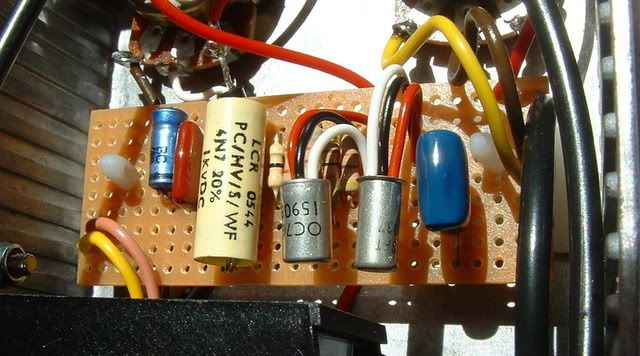 No#85-ish - 179 / June 2006 - present day, 2008
Okay, so my notes get a little thin come 2006 as we were headlong in selling to dealers and I only really made a note of where they went and only occasionally what transistors were inside.
From pedal #82 (June 2006) - #138 (September 2007) there are no notes on the transistors. I'd assume the main stay would have been a SFT353 & an OC76.

No#82 - 89 final assembly by Linzi

No#95 - 109 made by Dave & Linzi

Transistor notes begin again at:

No#139 - 151 OC81 & OC75
No#156 - 158 OC75's
No#159 No battery drawer
No# 160 - 171 Mullard OC76's
No#172 - 177 AC125 & OC76
No#178 -179 Mullard OC76's

The 8K2 resistor was replaced with a Trimmer pot at some point in 2007?!....I don't know when
2006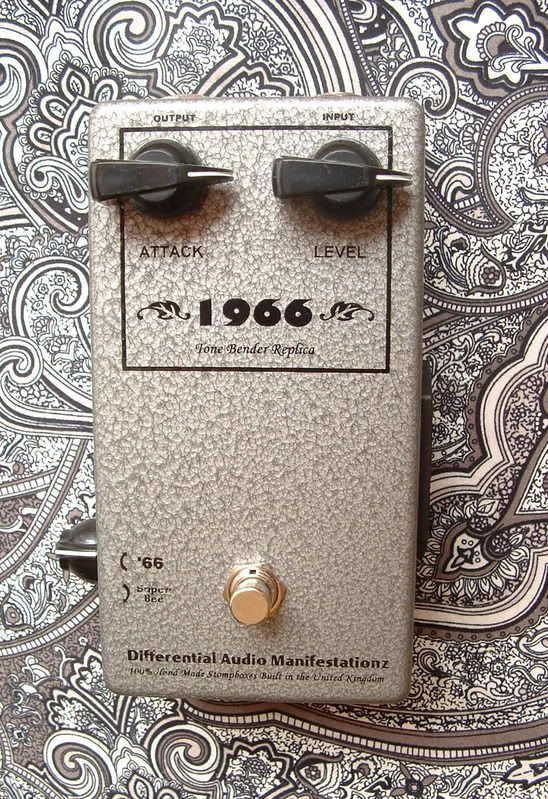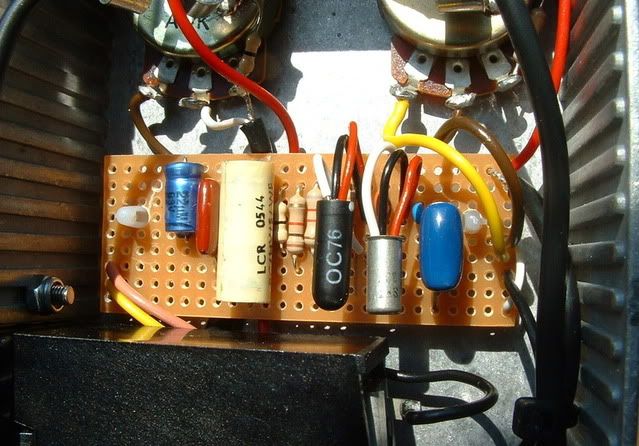 2008