So the Meathead has always been the most intriguing of the DAM boxes to me,
and at this point the only dam pedals I own are Meatheads!
Today I finally got in the amazing Meathead Deluxe M-25 in this sick black and gold warpaint.
Call me vain, but I had to have this badboy to complete my B&G Trifecta of DOOM.
meet the family;
B&G Meathead, Meathead Dlx M-25 and Meathead Dark:
So I was initially disappointed when I had heard that the Meathead Darks were no longer in production, seeing as how I was on that list and my name was pretty close to coming up. Luckily I was able to track one down, but I really wanted to try out the M-25 since the demos I heard sounded amazing. I already had the B&G Meathead and that thing was great, but there were definitely some differences between that and the Dark, so why not get the DLX too...?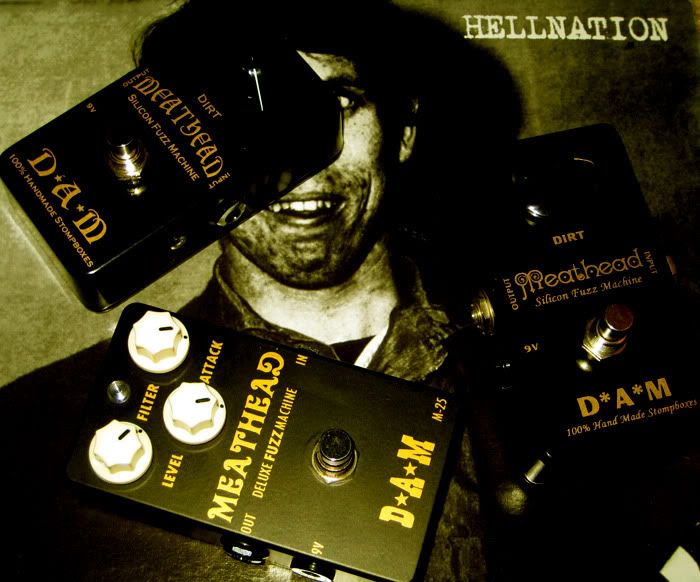 The B&G Meathead from 2008 has been talked about by some folks on here as their "favorite fuzz". I was lucky enough to grab one off the forum a while back and I instantly fell in love. It has such a smooth tone to it but can still do that nice Crunch you would normally expect from a Big Muff. It loves the lead tones but also really excels at rhythm playing. I find myself cranking out some Helmet every time I plug in!
I was really surprised because it somehow achieves heaviness without much lowend? So kudos to the Capt. for that one.

There's a couple demos on youtube, but I recommend tracking one down to hear it for yourself.
This really is a fantastic sounding pedal.
The Meathead Dark, from the descriptions I had heard, was really the pedal I had been looking for, and when I got it I was not disappointed at all. It has noticeably more gain available than the B&G Meathead does. It also has this MASSIVE low end that crushes anything in its path. Backing off the guitar volume just a bit removes some hair and brings you into creamy smooth, but heavy as fuck territory. This is the pedal that any Doom, Stoner or even Death Metal guitarist should own. I would hate to be the bassist in the band where the guitar player is rocking an MHDark! There is the 1 GMD demo of it on youtube, and although he rocked it out nicely, his playing style doesn't really compliment the full awesomeness of this pedal. Again, if you can find one, do.
The M-25 Meathead Deluxe seemed like it would be the more versatile version of the Meathead Dark, which to me was a great thing. The Captain stated that it could get the Dark's tones with the Tone knob all the way to the right and the gain maxed. Well I A/B'd them and although they aren't exactly the same, only a freak would be able to tell the difference! So if you were on the Dark list I wouldn't worry at all about getting the Deluxe instead. It's just as boomy, heavy and crunchy as the Dark. The differences I heard were that there was a little bit more low-midrange in the M-25, which helps it stick out in the mix, but its not quite as smooth as the Dark. They both react the same to playing style, tone&volume changes and stacking with other pedals. This really is a fucking awesome and devastating device. The tone control is kind of weird, but I think I just need to get used to it. It seems like instead of lowpass filter, that it can bump the mids or eliminate them? I could be wrong though.
So, is there a reason to have all 3?
Yes! Hell yes!
and you should too/