Moderator: The Captain
Posts: 10167
Joined: Tue Aug 26, 2008 9:22 pm
Hah, seems like that kid is on an acid trip!

Posts: 3096
Joined: Thu Aug 28, 2008 4:23 pm
Location: Oxfordshire UK
Sickle wrote:Guys, don't forget you can post the videos direct in the threads now!!
I can't play them when people do that. I just get a bar at the bottom.
It's like an orange on a toothpick
Posts: 450
Joined: Tue Sep 23, 2008 8:28 pm
Location: The Tundra, Canada
The Man Show! in honor of our new laughing deer smiley!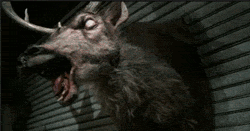 Posts: 9
Joined: Mon Mar 02, 2009 4:07 pm
There used to be a really good show in Belgium called "In De Gloria", a sketch show taking the piss out of telly shows in general. Here are 2 subtitled clips:




Users browsing this forum: No registered users and 1 guest