Moderator: The Captain
Posts: 972
Joined: Sun Dec 02, 2012 7:52 pm
Location: Nashville, TN
I wonder what those fish think.
Posts: 697
Joined: Sat Nov 29, 2008 3:44 pm
Location: Pennsylvania
Cody, clean up is not as much as a Kraken or a Fuzz Face. It will pull in the rains a bit though, but only to a certain extent. I was just thinking that I can't help but feel like the Kraken is a little lightweight by comparison. That duo is going to be my setup for the foreseeable future. I don't think I could ever make something unless it checked all the boxes for myself too.
Posts: 538
Joined: Fri Mar 20, 2015 3:34 pm
Location: Penn's Woods
Man, is that thing stout. Thanks for putting up the vid. Nice amp too.
"The Meathead is supposed to break things" -The Captain
Posts: 6708
Joined: Wed Dec 31, 2008 10:48 pm
Location: Seattle
I was thinking the same thing about the fish. They must be fans of sleep by now...both the band and of the time when they aren't getting their little ears rocked the Fuck out!
(\__/)
(='.'=)
(")_(")
Posts: 697
Joined: Sat Nov 29, 2008 3:44 pm
Location: Pennsylvania
Hehe. Most of the fish don't seem to be bothered. I have about 8 adult Severum cichlids in there and a bunch of other fish that don't seem to mind. The one that does is a giant iridescent shark. He's not too fond of it. Poor guy. Can't fit the tank anywhere else though but on the wet bar ledge where it sits now.
Posts: 2575
Joined: Sat Jan 28, 2012 11:30 pm
Yeah, OLD ONE sounds earthshakingly fabulous.

0
"Kiev is a hell of a town." - Larry King
Posts: 105
Joined: Mon Jul 29, 2013 3:12 pm
Location: united states
Where there is DOOM there shall always be ELDRITCH!!!!!!!!!!!!!!!!!!!!!!!!!!!!!!!!!!!!!!!!!
















Posts: 286
Joined: Tue Aug 13, 2013 5:07 pm
Olde One landed......Teh Heavy it is!!!!!
Love this strangle knob functionality!!! Cool spitty to smoove loving! Lots of sounds for sure!!
Art work is super dope, lots of fun had looking at the overall detail. If I can get a clip up soon I wilst

Posts: 697
Joined: Sat Nov 29, 2008 3:44 pm
Location: Pennsylvania
Okay, the second batch was all spoken for before I started to build them except for one. It will be finished up later tonight and ready to ship in a couple days after testing. I have refined the wiring layout more and eliminated some unnecessary wiring in general. They look nice and clean. I'll post pics later or tomorrow as soon as it is all done. Same price, $250 +$10 shipping to the USA.
Posts: 697
Joined: Sat Nov 29, 2008 3:44 pm
Location: Pennsylvania
Here's a pic of what the one for sale right now looks like. (the white one is my personal box.. the one available is silver with a red turret board.. going forward though, I can do white ones as well as silver)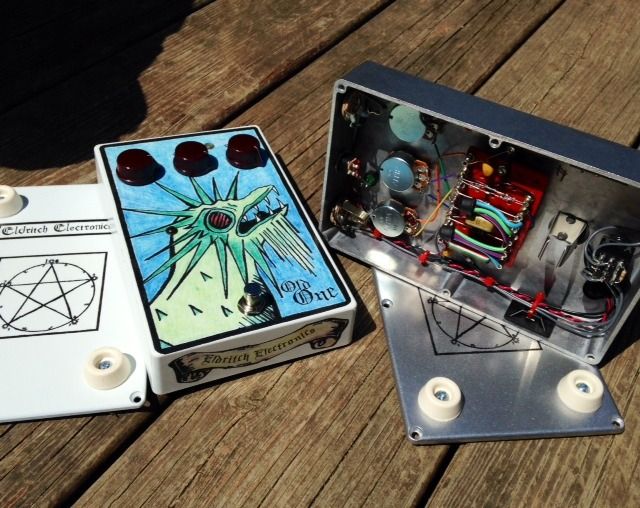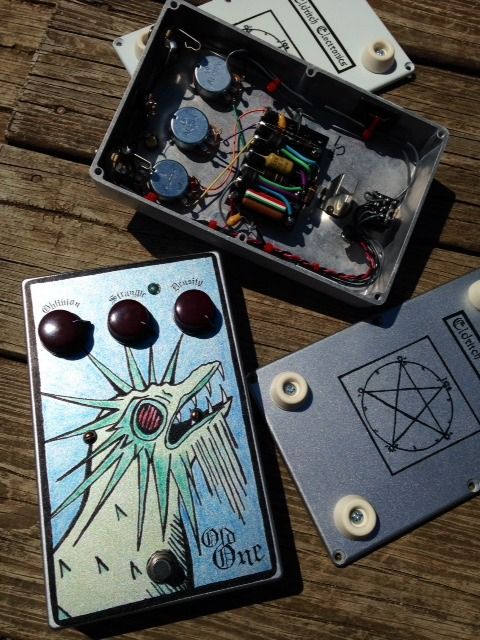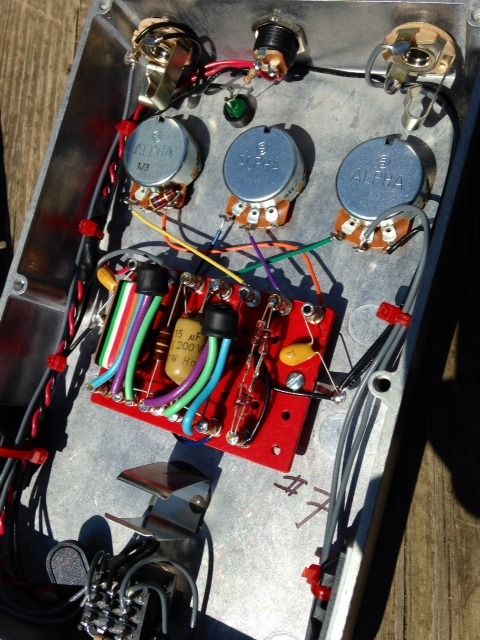 And finally, one of the lab assistants coveting the finished product

Users browsing this forum: No registered users and 3 guests