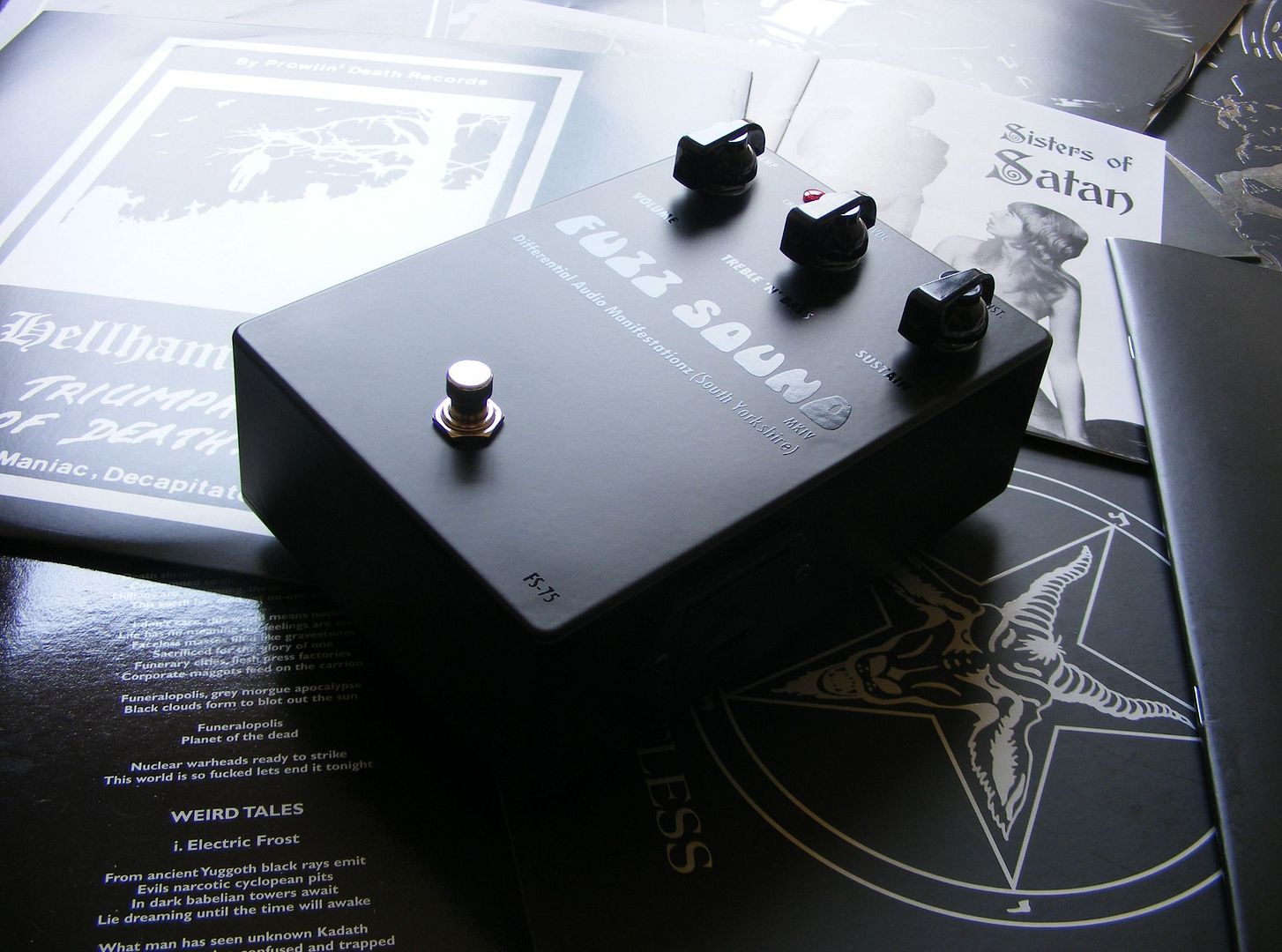 If you're going to do something, do it well. And leave something witchy.
Oooh, a black Fuzz Sound with added black and with a side helping of blackness. A CIA sponsored D*A*M fuzz box? Project Oxcart manifest as a waveform? Recovered alien technologies utilized as soul food? In plain sight but outta sight?, out of site? All of the above?, non of the above? It's November 1988 delivered in flat black Deltron enclosure packing a crunch-tastic swollen muscle heavy booted trio of germanium might. Yes, that's right. It's a custom* Fuzz Sound MKIV.
Simply put, this is an iddy biddy batch of 6 custom built Fuzz Sounds decked out in a particularly slick black on black somewhat sexy finish.
Interesting fact number 1) These pedals have been constructed and brought in to our three dimensional realm by Miss Haynes. The first Fuzz Sounds she has made and I believe the first 'large' box pedals she has made this year.
Interesting fact number 2) These pedals have been specially biased so the collar and cuffs match, tuned for a little extra lower midrange tightness, a firm but stout low end with a crunchy topping.
Bad scene
To present a sonic anchor, or an ambiguous tonal guide, I shall quote myself, which I find kinda odd. I describe the 'stock' Fuzz Sound MKIV as…
"…an all out balls to the wall, big hair, big boobs, fat cars, fast food, dirty denim, dirty hippies, 8-track stereo cranking, 3-D glasses rocking fuzz tone. To quote, its: "1970 rollin' in sight"
And to be further bizarre by quoting myself again, I set the theme for our Grease Box, which is a derivative of the Fuzz Sound (Tone Bender MKIV circuit), as…
"Its 1981. MTV, The Space Shuttle, The Fall Guy, Roland Reagan...Peter Sutcliffe, Britney Spears is born. Satan rules supreme. Awesome times are awesome. The beast awakens. Marshall amps, long hair, cool moustache, humbuckers in yer Strat, can I palm mute on every song? Why yes you can. It's happening and it's happening now"
The point in doing the above to bring you to the now and to these dark stealthy offerings. These black on black Fuzz Sounds are just a further continuation of my journey into and through the Tone Bender MKIII, MKIV and I guess the Buzzaround too, infact any of the 'darlington fuzz' circuits of the 1960's. I find it endlessly fascinating to the point of obsession that this circuit can go from a clumsy choppy overly gated heavy booted drunk of a fuzz tone to an amphetamine fueled blade wielding lasers for eyes daggers for teeth distortion box.
So as a chronology, as in, sound being time, this is last in line of the above. The early 1990's, kill your boss, kicked down doors, broken foot, broken mind, stumblin' man, 1000 yard stare, Jeffery Dahmer, acts of aggression, the Cold War over.
Exact precision under a heavy foot. Solid, heavy, dense, but none too chubby. A GMC 4x4 blowin' sparks down a one way street, a F-117 blowin' your mind. In a nutshell, it's a bad-ass-fuzz-box. Still has all the tonal scope of any D*A*M Fuzz Sound but tuned with Satanic might and lil' extra biggity bam in the lower midrange.
Evilinside
All have the same germanium line-up of a sole Mullard/Philips OC76 backed up by the military shit, a CV7004 (the military version of the OC45) and a CV8314 (military OC76). The usually high quality resistor and capacitor presentation (Arcol, Vishay and Wima) along with solidly produced mechanical hardware (Omeg, Netrick etc) make these bruisers not only look like a stealth bombers but give a nod and wink to the construction style of one.
Brass tacks
7 units have been produced in total. 1 has gone to a favour owed. The other 6 I will auction on evilBay. Numbers #092 through #096 in the black on black finish, #090 is the prototype unit of this batch, the pedal I made a bias test and as the construction guide for Linz. It sounds the same as the spooky's but was made by me and is finished in dark grey with red ink.
This is unit #092 you observe. These pedals go up in two sets of three two hours apart. The first goes up at 22.21pm 03/08/2011 (GMT). A 3 day only listing staring at £66.66, once one set finishes and the next set goes up. Same shit as before. This is all there is. Will never be made again. Not saying this bullshit to big up anything up just saying how it goes down. What it is is what it is.
Be-aware:

The flat black Deltron enclosures have, from time to time, slight surface markings. If any of these units have such markings the photographs will show as such. Be sure to check over

all

the pics. This is the actual pedal that you are bidding on.
* All our shit is custom, made in small batches, never set in stone. These are just a little more…er…witchy? than usual.
p-0rNz...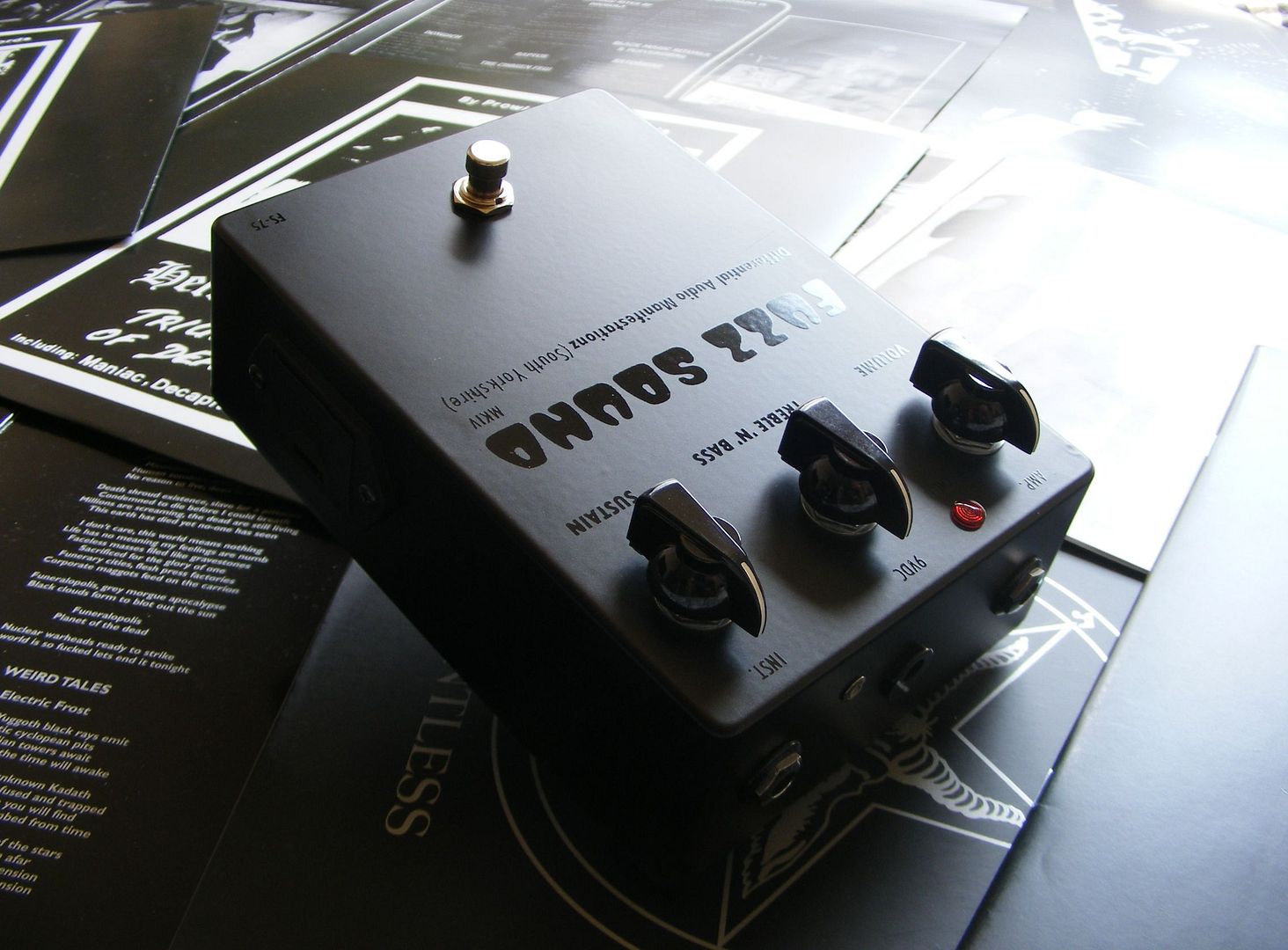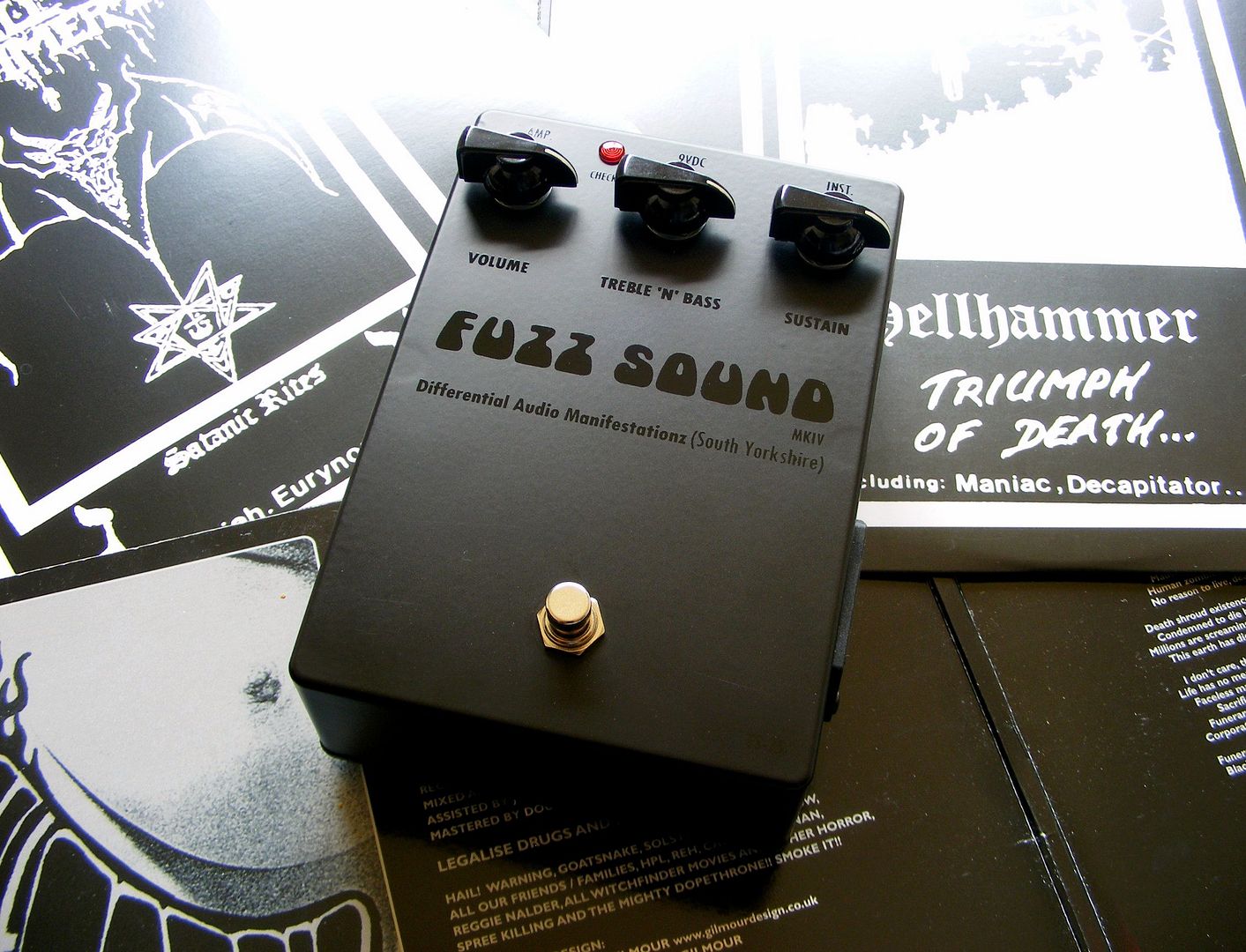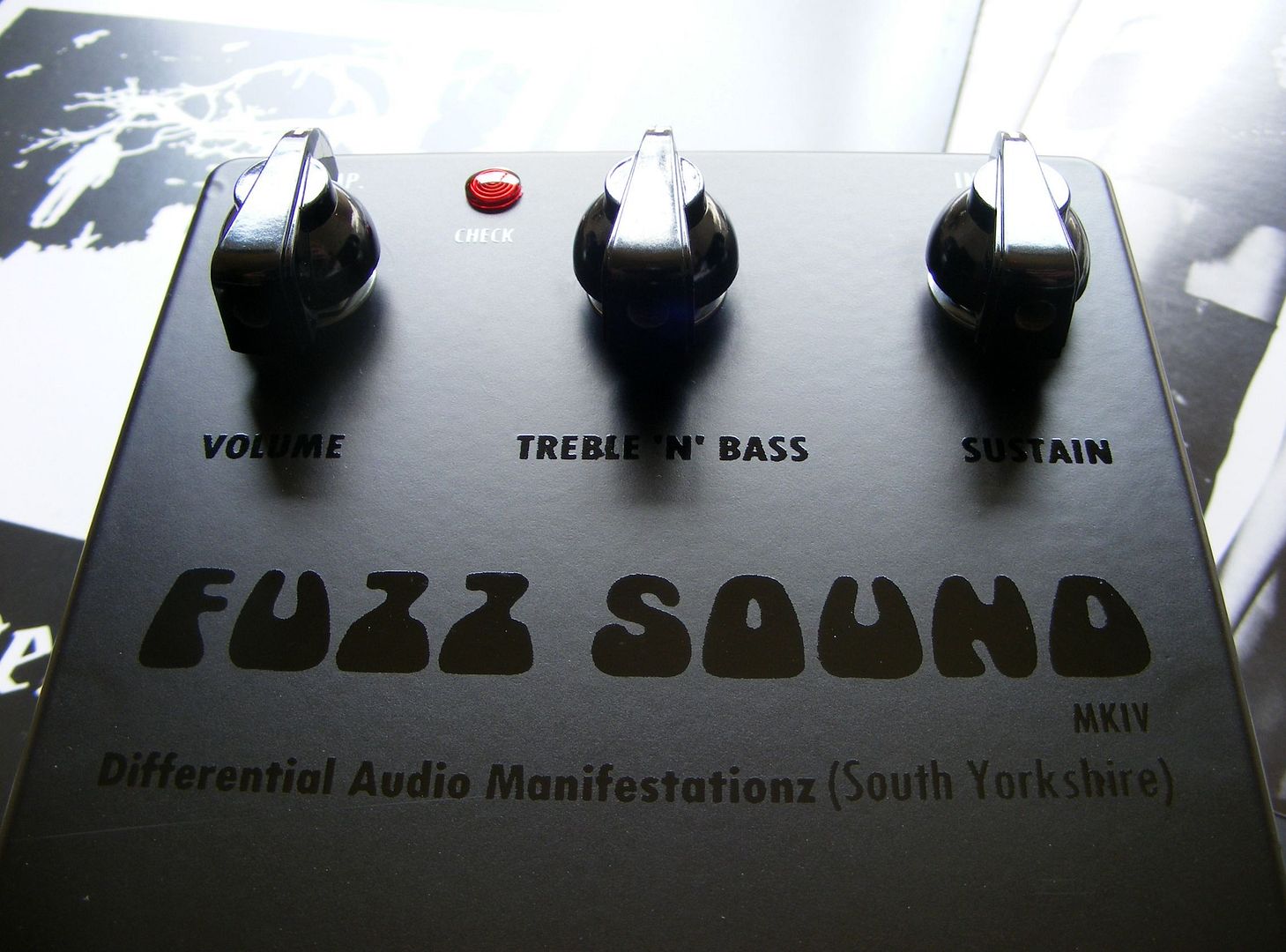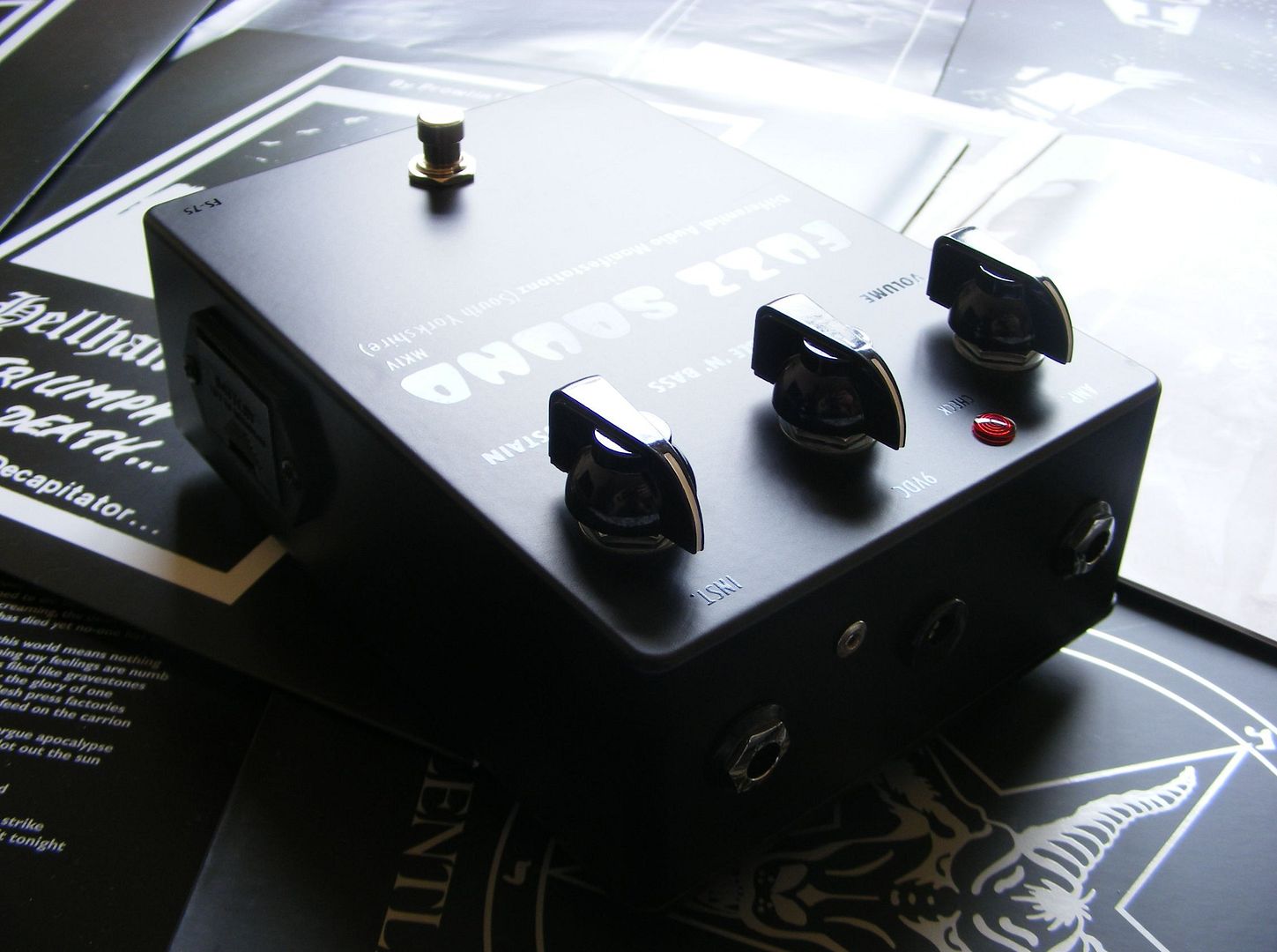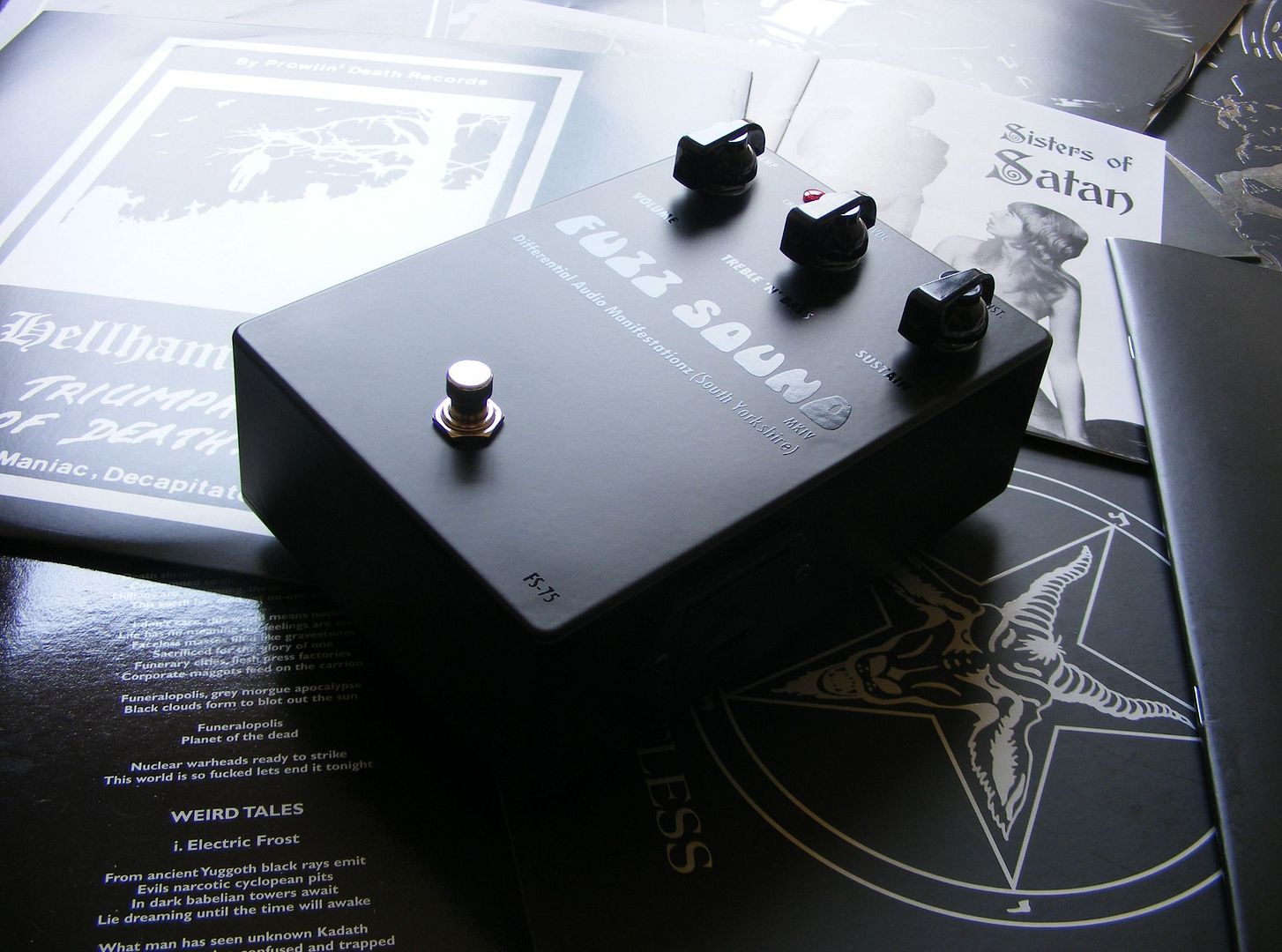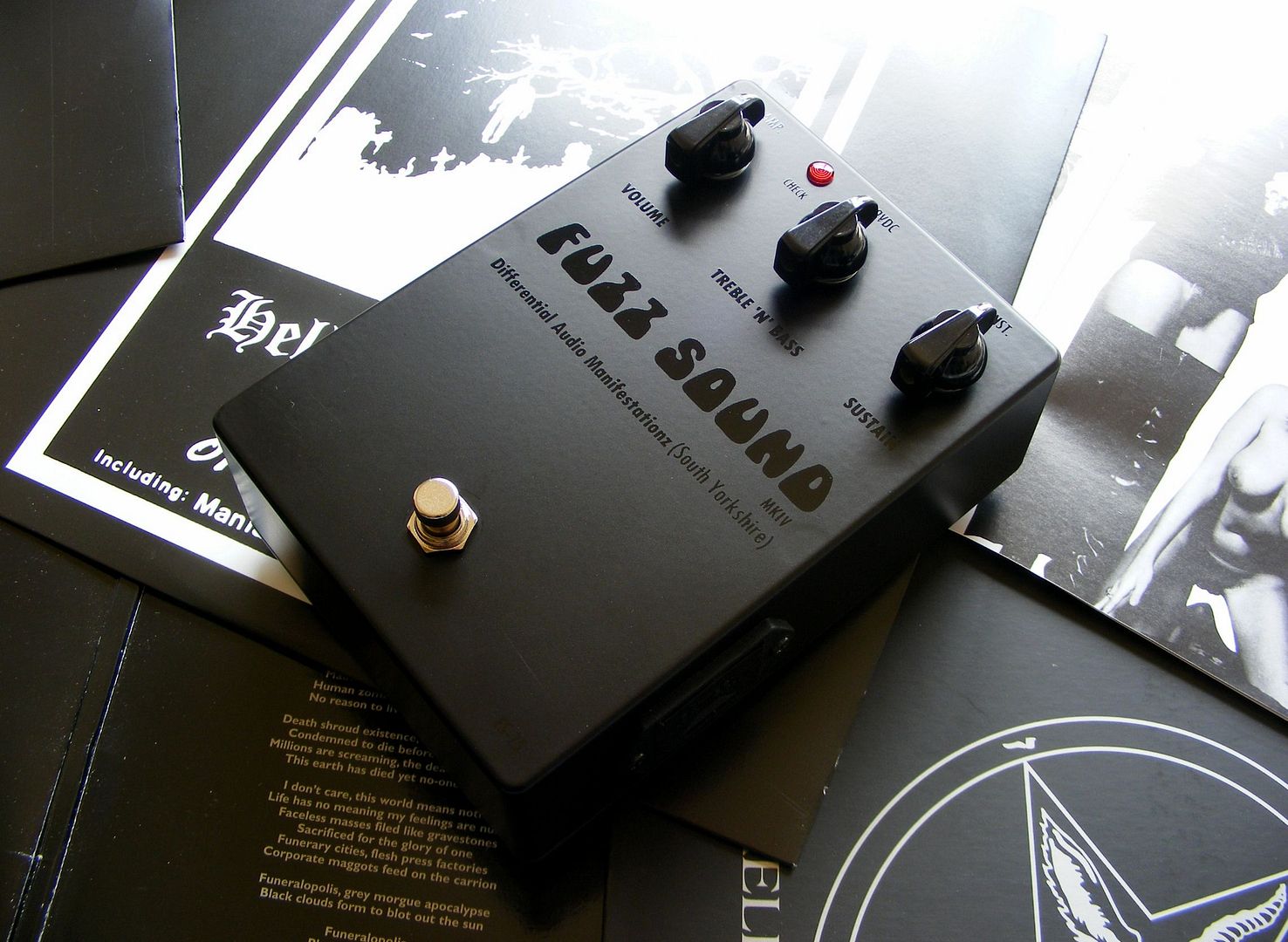 Please note:
All
these shots are of unit #092.
D*A*M eBay store:
http://stores.ebay.co.uk/DIFFERENTIAL-A ... FESTATIONZ