How bizarre. Does sound like a temp issue to me, unless the speaker really did whack out the tone, though I can't say I've encountered that myself.
You could try pulling up/down the bias a teeny touch. The newer MKII's should be able to take a little more
temperature
fluctuations than the older fixed bias models. It was pretty damn not here (for the UK) when I made this last batch so maybe the bias was a hair higher than normal due to the heat over here.
If you wanna try the re-bias first off make a note of where the trimmer is currently set. You'll then need a multi meter, a cheap ass one will do. It wants to be set for volts DC. Insert a jack into the input socket, stick the red probe into one of the screw holes in the enclosure and the black one on the top side of the 8K2 resistor. Vintage units vary a fair bit, anywhere from 7.5-9.1 volts. Maybe try around 8 if you wanna play it safe. Different transistor configurations will like different voltages too. This copper unit sounded at it best at 7.5 and still had a little play either side should it get too hot.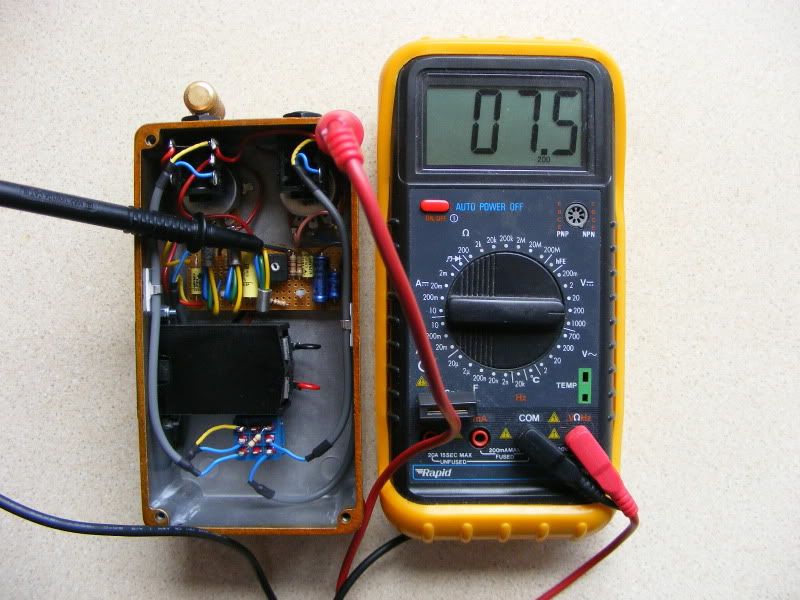 You can also do it by ear, which is much more fun. Get the MKII running into a clean amp at reasonable volume. Set the Level full and the Attack totally off. Roll your guitars volume control back a wee bit, about 7-8 if you have a Strat. The tone here should be pretty clear and clean, if you can hear some fuzzy artefacts then inch the trimmer over to the left until they disperse. If you then crank the Attack and pull up your guitars volume you'll also have maximum sustain from the unit, that too should give a little play on any
temperature
fluctuations.