[just making a start moving the more official stuff here from the old ship whilst fine tuning things a little]
D*A*M Fuzzaround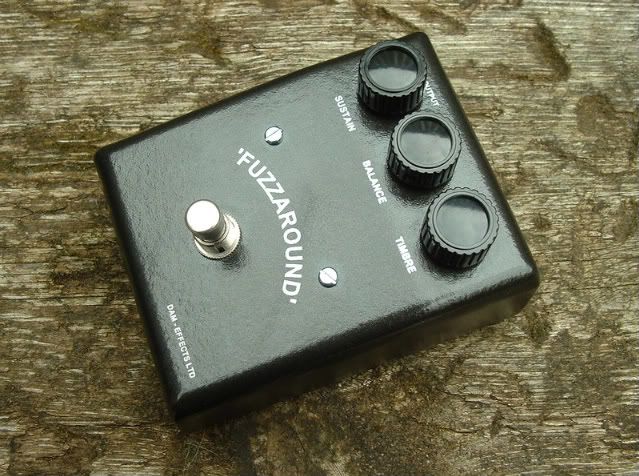 The Fuzzaround is the 3rd custom project that I have run via the D*A*M Forum.
Please note these lists were filled months ago. No more places are available.
In a nutshell, the Fuzzaround is a replica of the Baldwin Burns Buzzaround. Built as close as possible to the original unit using the exact same construction methods. Every part of the pedal was selected for the highest possible quality and similarity to the components used in the original Buzzarounds.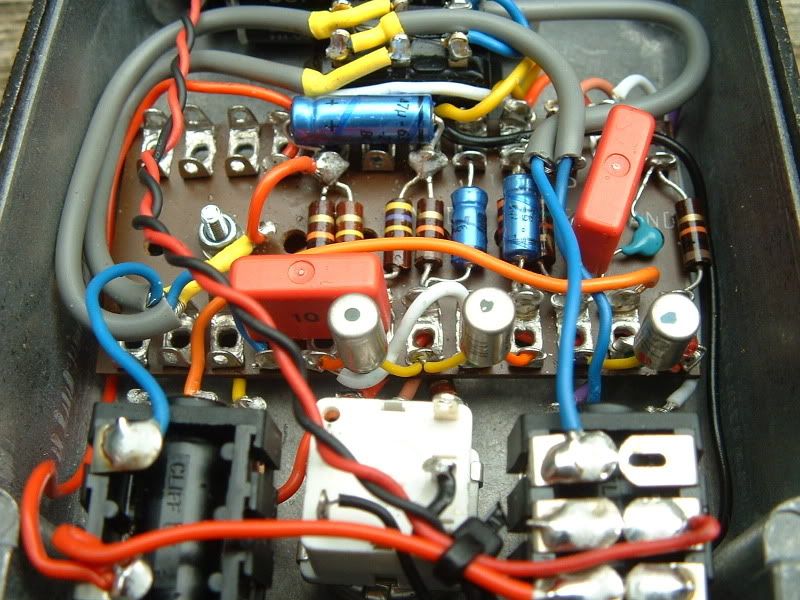 The following components and hardware make up the D*A*M Fuzzaround.
NKT213 Germanium transistors
Carbon composition resistors
Wima metallised polyester capacitors
BC components axial aluminium electrolytic capacitors
NOS Mullard Germanium diode
UK made tag board
Omeg carbon track potentiometers
Cliff audio jacks
Carling DPDT footswitch
High quality stranded tinned annealed copper equipment wire
Screened audio quality copper conductor cable
Lead-free solder with 2.5% silver and 0.5% copper content
Schurter control knobs
Superior quality custom made enclosure, made by http://www.pedalenclosures.com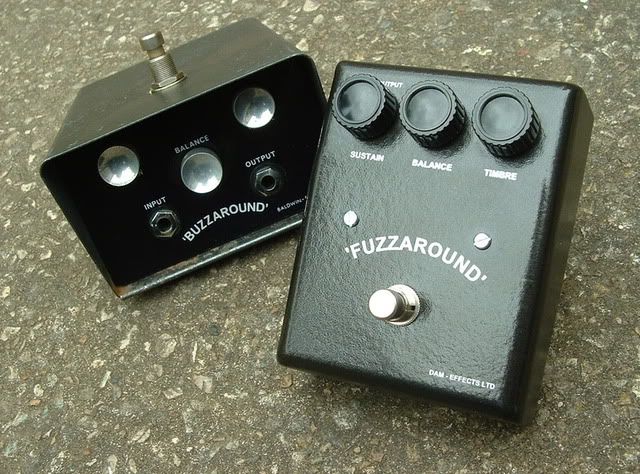 The first ten pieces were finished in Black hammerite paint. Lists #2 & #3 units have a Amber pearlescent powder coated finish. (I'll update this pic when they are back from screen print...which will be very soon!)
The Fuzzaround was made using two different original Buzzarounds for reference. The original Schematic was made from Geefuzz's unit back in 2007: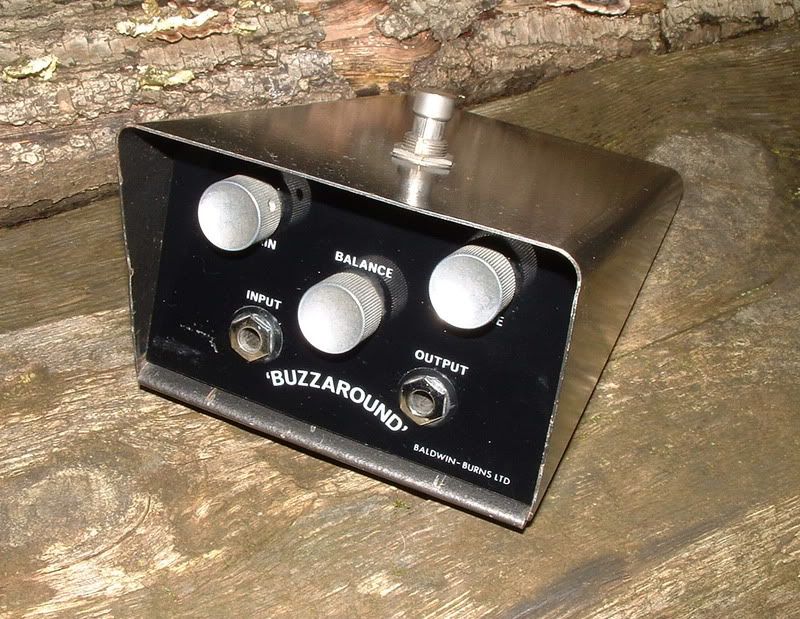 The test pedals and the all sound tests were made with Graham's Buzzaround in 2008: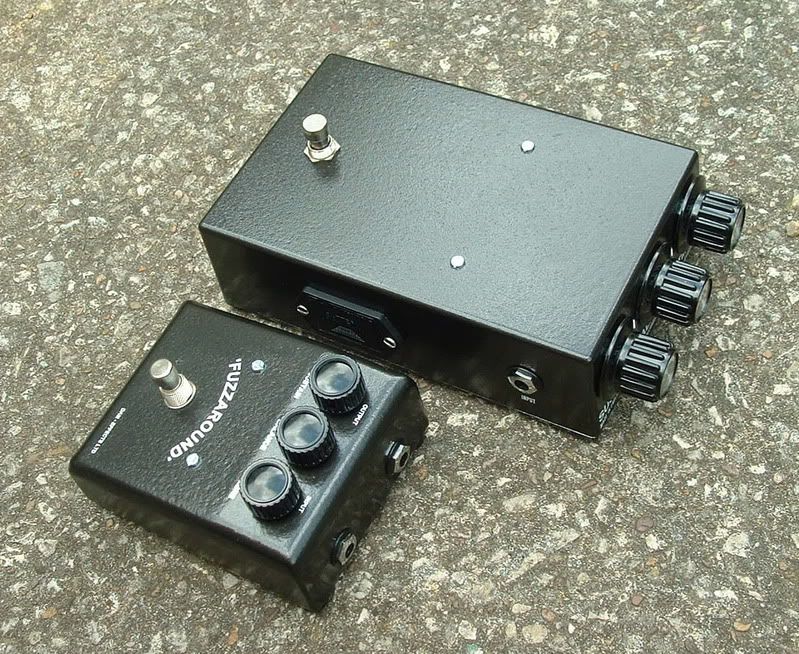 The following info and history lesson was complied by Mr. Picard :)
The Baldwin Piano Company (Baldwin) has a long history in the music industry. Dwight Hamilton Baldwin began by teaching piano, organ and violin in Cincinnati, Ohio, USA, in 1857. By the early 1900s the Baldwin Piano Company was exporting pianos to 32 different countries with numerous retailers throughout the US. Having weathered both the Great Depression and World War II, the company introduced the first electronic organ in 1947 and later changed its name to the Baldwin Piano & Organ Company. In 1965 Baldwin failed in an attempt to purchase the Fender Musical Instruments Company so it purchased Burns of London and started selling guitars and amplifiers (manufactured by Burns) under its own brand. In 1967 the empire expanded with the purchase of the Gretsch guitar company. By 1984 the company hit hard times and went into bankruptcy. The company recovered but by 2001 it was in difficulty again and re-entered bankruptcy. Today the company is now part of the Gibson Guitar Corporation.
Between 1965 and 1968 the merged UK subsidiary of Baldwin Piano & Organ Company and Burns London, called Baldwin Burns Ltd, produced a small number of guitar effects pedals. One of these was a fuzz pedal called the Buzzaround. Gary Hurst reportedly designed this pedal around 1966/67 (unconfirmed and probably hearsay) and the circuit is extremely close to the 3-Knob Tone-Bender circuit. Those with a flair for the conspiracy theory suggest that, with very good reason, the Sola Sound Tone-Bender MKIII is basically the Buzzaround circuit with the addition of a tone control. The Buzzaround pedal contains three low-gain NTK213 transistors, which have a similar sonic profile as the NTK275. The pedal contains three knobs, being:
- Sustain. Self-explanatory.
- Balance. This is basically a bias control for Q3.
- Timbre. This is a volume/tone control, which is never fully off.
Users of the pedal describe the pedal as having a huge amount of volume and saturation with the fuzz operating in a very smooth manner. The controls interact with each other and the fuzz cleans up on interaction with the guitar volume control. For one of the best demonstrations of an original Baldwin-Burns Ltd Buzzaround you can see this video held on YouTube:
http://youtube.com/watch?v=pZViQ2H-5s4
Fuzzaround wait lists
#1
Waiting time : complete
1. Puzzleloaf (AKA ~ kb892)
2. Graham
3. Mr Picard
4. 1bottlerocket
5. The Captain…that's me! (needed for reference)
6. Mr. Min T. Fresh
7. The_original_mr_nice
8. Dazed and Confused
9. Philip
10. Psycho*Daisies
#2
Waiting time : 4-8 weeks
11. mhat
12. skybone
13. tonebender
14. Mr. Maestro
15. chicagowarmth
16. jacobjj5
17. aaland_brian
18. Sagezero
19. Happiass
20. Blobcaster
21. Nurket
22. Sblue
23. Garyrouge
24. Pigeontoe
25. Cubba
26. Eastcoast
27. Jp30
28. Josoap
29. Poorbob
30. LZ_69
The secret stash
31. ?
32. ?
33. ?
34. ?
35. ?
#3
Waiting time : 8-12 weeks
36. dirty finger
37. sundayfeast
38. Tommy1966
39. squarewave
40. Emjee
41. Ted
42. d4niel
43. slomatic
44. Damn-deal-done
45. william
I'll update again soon...