Moderator: The Captain
Posts: 730
Joined: Tue Jul 21, 2015 6:19 pm
.
Last edited by
Pahathuasyndicate
on Sat Apr 01, 2017 2:02 am, edited 2 times in total.
Posts: 2151
Joined: Mon Dec 08, 2008 11:11 pm
Location: Auld Reekie
Fingers crossed for you mate......I reported it to EBay as stolen, let's hope this helps your case

Posts: 8044
Joined: Tue Aug 26, 2008 8:45 pm
Location: Switzerland
Geez, that sounds like a nightmare. Hopefully you get your cash back. That is some shady shit.
Posts: 3006
Joined: Mon Mar 18, 2013 10:41 pm
Location: UK West Midlands
Yeah that's really shit news. Hope you sort it out and get your cash back!
In order to get a loan, you first need to prove that you don't need it.
Posts: 496
Joined: Sun Oct 05, 2008 5:14 pm
Location: Brighton, East Sussex
Fuck man, that's some low life shit. Hope you get this sorted quickly mate
Posts: 674
Joined: Wed Jul 14, 2010 2:26 am
Location: Northeastern U.S.
Need a cloth to clean your saxophone? No! I'm just looking for some fuzz!
The Artist Formerly Known As KT66
Posts: 560
Joined: Mon Jan 21, 2013 8:05 am
Posts: 2151
Joined: Mon Dec 08, 2008 11:11 pm
Location: Auld Reekie
Posts: 701
Joined: Sun Sep 28, 2014 1:46 am
Location: The Land of the Funnel-Web Spiders
Wtf does I miss here?!
"These pedals are like women, when you need one there's none around. When you finally get in a serious relationship with one, they come out of the woodwork." -Turkish
Posts: 686
Joined: Fri Aug 29, 2008 12:01 am
Location: Poundland
anyone get this? one of the cooler Fuzztone clones!!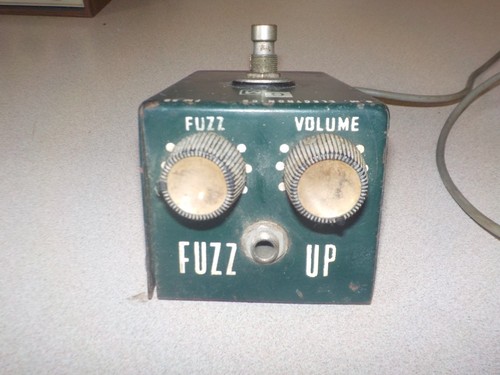 ebay auction ended within a few hours, somebody got to the seller.
Users browsing this forum: No registered users and 13 guests