Moderator: The Captain
Posts: 8083
Joined: Tue Aug 26, 2008 8:45 pm
Location: Switzerland
DO those Guild SG's have a model with P90's in it? They look affordable and nice.
Posts: 789
Joined: Tue Aug 26, 2008 11:07 pm
Location: Antwerp, Belgium
my new axe: Yamaha Image Standard (1988)
You cajn't bajn me
Posts: 2530
Joined: Sat Sep 06, 2008 8:53 pm
Posts: 375
Joined: Tue Sep 09, 2008 8:47 pm
Location: Toronto Canada
I'm on a low budget these days because I just bought a trip to Havana Cuba for Dec...but this little thing was the best 13 bucks I spent in a long time. I have a tight little music room. This baby worx great for hanging the guitar out of the way, when I monkey around with my pedal chain.
Locking too!
Posts: 22
Joined: Sat Aug 30, 2008 3:47 pm
Sickle wrote:Hmrmm, now its 'guess the pedal' time! I see a BOSS chorus, something that looks like a footswitch, and those two pedals..What are those, Arias?

Its criminal for such a good guitarist to be on those raunchy Peaveys..
could be two DOD FX10s?
Posts: 3366
Joined: Thu Aug 28, 2008 4:23 pm
Location: Oxfordshire UK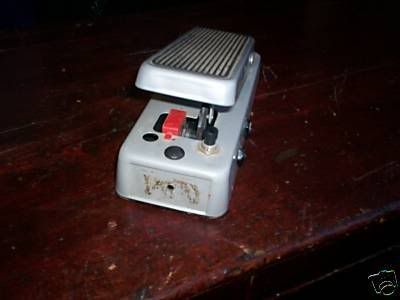 The guy says it's a Colorsound Wah but I'm not entirely sure cos I've never seen a white one. Can anyone confirm this for me? It's worth a go for £45 & if it sounds good I aint bothered what make it is.
It's like an orange on a toothpick
Posts: 6987
Joined: Sat Sep 13, 2008 10:02 am
Location: Gulf Islands, BC, Canada
Oh shit is right. I just boughted this little old blast from the past with a real lo-ball bid. No idea why, except nostalgia maybe. This was my first bit of "real" gear way back in the 80s...saved for months to get one of these: MIJ 80s Boss HM-2 Heavy Metal distortion that I will most likely never use. Rumour has it Eric Clapton used one of these until he realised they were crap. Although the guy I gave mine to years ago sounded great with it, but I think that was more him than the pedal.
It's going to be so out of place with the rest of the dirt pedals:
Last edited by
devnulljp
on Sun Nov 01, 2009 9:17 am, edited 1 time in total.
Posts: 22
Joined: Sat Aug 30, 2008 3:47 pm
ahah, I have one of those.
If you turn the gain knob all the way down and the volume right up it just adds a little fuzz and you can use it to drive an amp harder. Good for sludge tones with the bass cranked. The tone knobs are hard to set though, they interact strangely, and if you knock the thing... gah!

My bass playing flatmate is quite attached to it though.

I just won an unbranded wau wau fuzz wah on a local auction site... AND my own personal holy grail of fuzz from ebay.

pics when they arrive... :D
Posts: 3366
Joined: Thu Aug 28, 2008 4:23 pm
Location: Oxfordshire UK
That Boss HM-2 will be great for 80's Thrash or a bit of Black Metal. Nice and battered too.
It's like an orange on a toothpick
Posts: 899
Joined: Sat Aug 30, 2008 5:55 am
Location: Midwest
Ah... sweet univibe type pedals... my favorite effect of all... so trippy, so Hendrixy, instant dose in pedal form........ Mr. Sweet made this for you? I guess it's a one off then.... RIP Mr. Sweet... Back to trying to talk my best friend into selling me his original mint Univibe... Been trying for 15 years so far with no success....Nice one Donovan...
G.
What do you want from life
An Indian guru
to show you the inner light?
Users browsing this forum: No registered users and 15 guests