Hello all... been a while since I last posted.
I have been wrestling with which model Colorsound fuzz wah I preferred for a while and then decided to upgrade the rest of my FX chain around that.( killing time/ in the playing doldrums while waiting for a certain blue F-zz S--nd...

Then I saw a Colorsound Wahwah Supremo come up for sale in the UK a while back.
Like this;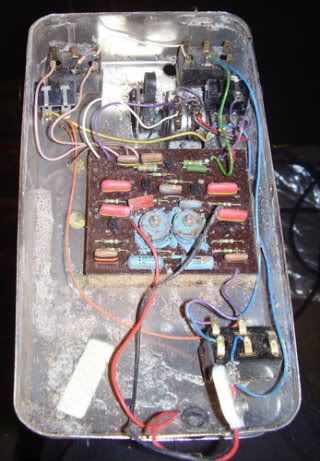 And I thought, "I'll have that one instead".
(After the seller had agreed to accept a bid from OS)
So I bought it for an OK price ( I think it was), considering the label was peeling off the front and one of the switches was advertised as "being broken"...
(more on the switches later).
It looked a bit rougher than these two pics from the auction may appear to show,when I first got it in the mail. I have a few more pics if anyone cares to see the transformation back to clean, fully working status...

I was just wondering if someone may know if there were very many of these made,or for how many years Colorsound made them?
( I wasn't sure if I should put this in the 'Just Porn' thread but it's kind-of unobtainium-grade out here in the Antipodes,at least.)
Thanks...