Long story short. About 3 years ago Anthony Macari asked me to make some pedals for Colorsound. A certain grey pedal to be exact. It is is now an occurrence. I'm very proud to say that I am now working with the fine gents at Colorsound and will be making their reissue Professional MKII Tone Bender. I don't really think I need make any explanation on the pedal itself but in a nutshell, its made as closely as possible to the real deal whilst making a pedal that I consider to be cost effective. For me personally its the culmination of approx 5 years research on the original Sola Sound Pro MKII's. When I made the first few D*A*M replicas back in 2004 my end goal was to eventually make a version in a fat assed enclsore like the originals so its kinda trippy to finally be rocking that shit.
What's inside?
The first 100 units will have Mullard OC84's (huge thanks to Donovan and Ryan for hooking me up with these!) along with Mullard and Iskra capacitors. The build style is as you'd find in an original Sola Sound MKII. The wiring is a tad looser than I would normally do but there is lot of space in these cases and the thing I am aiming for here is authenticity. The OC84's are really an ideal candidate for the MKII circuit. They give the best of both worlds. They give the lowest gain possible, aside form the old Impex devices, with the Attack set fully off and easily as much gain as a good set of OC75's but with a hair less noise when maxed out. Both Anthony and Stave Macari are keen to have a pedal reflective of where they are at now and whist the MKII is quite obviously a fuzz box of things gone by having the Mullard OC84's in the mix adds a new twist on the usual suspects that you'd expect to see in such a pedal.
Where do I get one?
Macari's. The other very cool thing for me on this project is that I am purely a pedal builder, I dig this greatly. I build the shit....and then build some more shit. In other words, I don't have anything to do the retail kinda stuff. If you are interested in this project you get you paws on one via the Coloround gents at Macari's in London.
Please do not ask myself or Donovan to hook you up as we cannot.
http://www.macaris.co.uk/
How many?
100 to start with. I aiming to have 10 or so pieces to them every couple of weeks but this is a slow and steady thing. I ain't rushing this. It gets done when its done and it gets done right.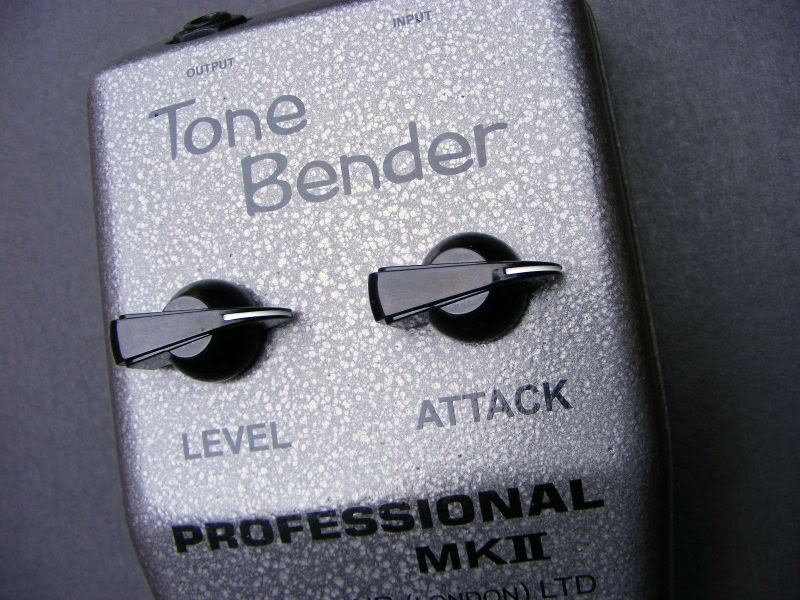 Dave, I thought you had done with the MKII?
Ah, well, if you read either mine or Donovan's postings on this subject it clearly states
D*A*M
MKII

This is a Colorsound reissue of their original 1960's Sola Sound unit, it is not a D*A*M pedal.
As I previously stated when I discontinued the D*A*M MKII's I will still fulfil the current orders and as promptly as I possibly can.
...I'll grab some tastier gut shots when its not pissing with rain.
-----------------------------------------------------------------------------------------------------------------------------
Sounds
OC84
OC75
MKII new batch announcements
Batch II
...got it's own thread for some reason.
Batch III
Batch IV
...inside
Batch IV
...outside
Batch IV 2018